Coco's Lucky Escape
Published: April 30th, 2022
Coco's Lucky Escape
Published: April 30th, 2022
This article contains discussion of potential animal cruelty
Coco is a sweet 8 year old cat who came to Stray Aid through no fault of her own. When our vet examined her she was shocked to feel a small, hard lump under the skin on Coco's neck.
Unfortunately, our vet couldn't tell what this lump was from its shape, size and hardness of it. When Coco was under anaesthetic to be spayed, the "lump" was also removed.
An air-gun pellet!!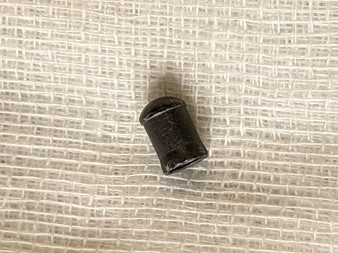 Luckily for Coco, the pellet had not caused her any major injury but it doesn't bear thinking about what could have happened had the pellet been a few millimetres from where it was. The pellet had missed vital nerves and blood vessels in the neck, her spine, trachea and her head. She's so lucky she wasn't left paralysed or dead.
It's unbelievable that someone would shoot a defenceless creature. We do not know how she came to be shot, and it is highly unlikely that we ever will, but it must have been a terrifying experience for poor Coco.
Coco is so gentle and loving, thankfully she's OK and has gone to a new home where we hope she'll remain safe.