Friends of Stray Aid
Will you become a Friend of Stray Aid and help us care for dogs and cats in need?
FRIENDS OF STRAY AID
Do you share our love for animals? Do you want every dog and cat to have a loving family and warm bed? Do you want to support a local charity helping hundreds of dogs and cats every year?
By donating from as little as £5 per month, YOU can become a Friend of Stray Aid and help fund the care of every dog and cat at our Coxhoe Rescue & Rehoming Centre, just off the A1 in County Durham.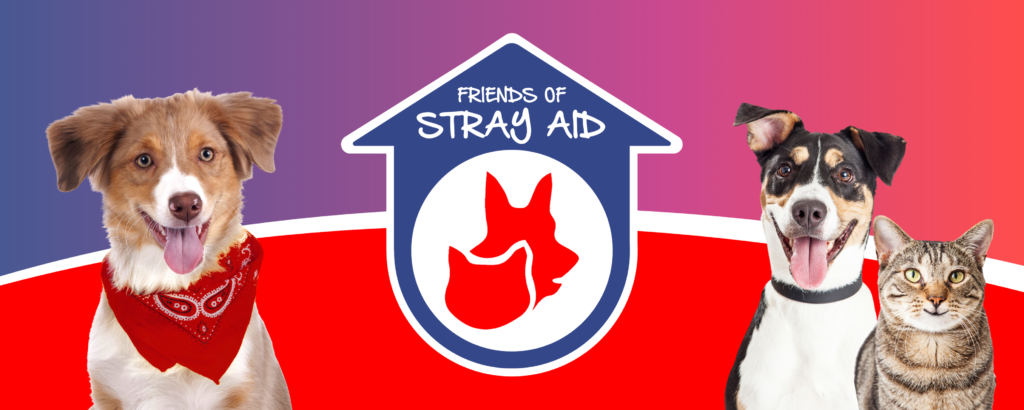 DID YOU KNOW… OUR AVERAGE DIRECT DEBIT SUPPORTER DONATES £10.38 (INCLUDING GIFTAID) EACH MONTH. WILL YOU JOIN THEM?
BECOME A FRIEND OF STRAY AID TODAY
Becoming a Friend of Stray Aid is easy. Simply use the form below to set up your direct debit donation. If you are a UK taxpayer, you can even GiftAid your donation and for every £1 you choose to donate, the UK Government will add an additional 25p. That means if you choose to GiftAid a donation of £10 it is actually worth £12.50 to us!
Join Friends of Stray Aid
Please note: you will be taken to the website of our trusted payment partner, CAF, to complete the donation setup by using the above form.
Please note: once you have set up your direct debit donation, make sure to click the "Back to the Friends of Stray Aid website" button to sign up for exclusive Friends of Stray Aid email updates to keep up to date with how your donations are making a real difference.
Please note: a minimum donation of £5 per month is required to become a Friend of Stray Aid. If you wish to donate less than £5 per month or make a one-off donation, please click here.
WHY WE NEED YOUR FRIENDSHIP
It costs us £1,000 every day to care for our four-legged guests whilst we work hard to find them their forever homes.
As a local animal charity covering much of North East England, we receive no direct government funding and rely on our Friends and supporters to ensure we can continue to provide life-saving and life-improving care to every dog and cat we can help who comes through our doors.
WHAT WE CAN ACHIEVE TOGETHER – HOLLY'S STORY
One thing that makes Stray Aid so special is our on-site vet facilities, our experienced staff, and dedicated volunteers. But as a regional animal charity, we receive no direct government or National Lottery support and rely on our supporters and Friends to continue helping dogs like Holly.
In the cold winter of 2018, Holly was found at the side of the road extremely malnourished and was brought to our Coxhoe Rescue & Rehoming Centre. She was so weak and skinny she couldn't stand and we weren't even sure what breed she was. We felt she must have been at least part Whippet. But thanks to our dedicated team, supporters, and friends, over weeks and months, we were able to nurse Holly back to health and discovered she was actually a young, bouncy Staffie.
In early 2019, Holly finally found the forever home she lovingly deserved. In 2021, Holly's forever human, Karen, sent us an update: Fast forward 2 years, we now live in Holly's world our lives revolve around making Holly's life as full and happy as possible, we wouldn't have it any other way she has brought us so much joy we can't thank Stray Aid enough and continue support them as much as we can.
It is only because of people like YOU that we are able to continue our vital community work into the future.
Thank you for your support. Together, we can make a difference for stray, abandoned and unwanted animals.