Introducing… The SAFE Pet Scheme
Published: July 19th, 2020
Introducing… The SAFE Pet Scheme
Published: July 19th, 2020
The SAFE Pet Scheme is a free service provided by Stray Aid for contributing members of Team SAFE. It aims to give you peace of mind that in the event of your death, we will take your pet in and care for them until we find them a new loving home.
It's easy to register with the scheme, and ensure that your pet, whether it is a dog or cat, is cared for when you are no longer around to do so. Stray Aid finds wonderful forever homes for over 600 dogs and cats every year. We know first-hand the love that a pet brings into your life, and how important it is to know that they will be cared for in the event of your death.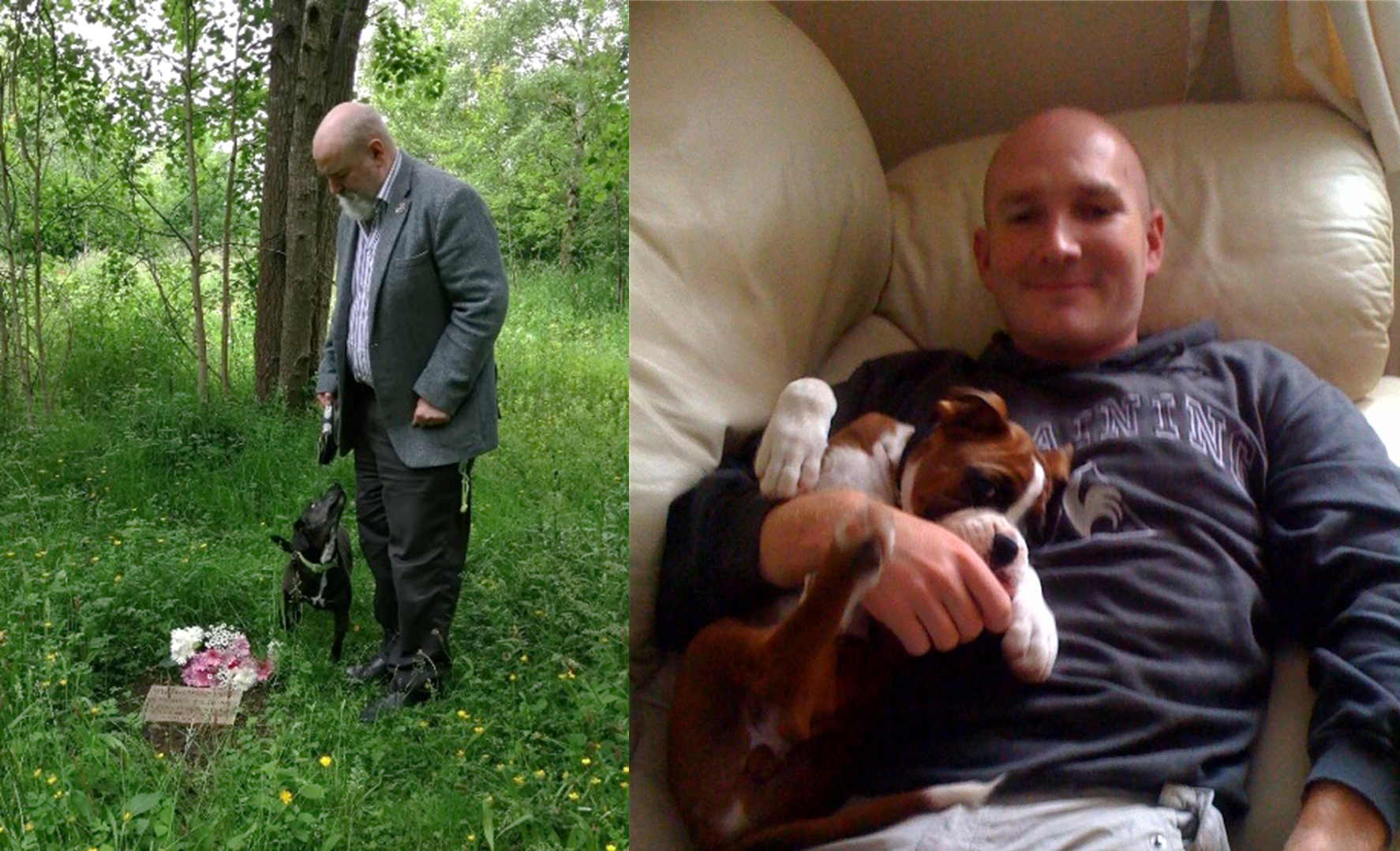 Stray Aid's Founder Member and Chief Executive John Bielby puts flowers on the grave marker of his son, William "Bill" Bielby, who died on 31st October 2017, aged just 35 years. Bill was devoted to his Boxer dog Bugle, and thankfully one of his close friends was able to take Bugle immediately after Bill's very sudden and unexpected death, and give him a loving home. Other pets may not be as fortunate as Bugle.
John, seen here with his Stray Aid rescue dog Miles, knows how difficult it can be to make arrangements when you lose someone close, and he set up the Stray Aid Forever (SAFE) Pets Scheme to ensure that, should the worst happen, loyal pets like Miles will be taken in by Stray Aid if family and relatives are unable to look after, or make arrangements for, a pet during such a difficult time.
OUR PROMISE
Through the SAFE (Stray Aid Forever) Pet Scheme, members can plan for their pet's future, so that in the event of their death, Stray Aid will take their pet in and care for them at their rescue centre until a loving new home can be found.
HOW DOES THE SCHEME WORK?
Once you are registered with the scheme, and we have been notified that you have passed away, we will arrange with your next of kin to accept your pet into our care if your executor cannot find a suitable alternative home with family or friends. Our dedicated team of staff and volunteers will take care of them to ensure they are looked after in line with the charity's policies and procedures, until a new home is found.
IS THE SCHEME FREE?
The scheme is free, and we promise to take a registered dog or cat into our care following the death of a fully paid up Team SAFE member. We simply wouldn't exist without public donations, and without kind gifts left to us by our supporters. That is why we ask you to consider leaving a gift in your will, so we can continue our vital work in finding forever homes for the lost, abused, abandoned and unwanted pets across the North East of England. If you aren't already a member of Team SAFE, you can join by visiting our website.
HOW TO DO I REGISTER?
Registering with the SAFE Pets Scheme is straightforward, and will cover your pet at the time of your death. Please provide as much information (favourite foods, treats, toys etc) as possible to help us care for them.
Should you have more than one pet, there are obvious difficulties in finding space at short notice for multiple animals, so we ask that you get in touch and speak to us about your circumstances.
Before registering, please ensure you are a paying member of Team SAFE and have spoken to us about registering your pet on the scheme, then you can download, complete, and return The SAFE (Stray Aid Forever) Pet Scheme Form
We ask that you please also consider leaving a Gift in Your Will to Stray Aid. By leaving a gift in your will, you will be helping to ensure our long-term survival and the best possible support for the dogs and cats in our care. Thank you.