Christmas Mortgage Appeal
Published: September 28th, 2020
Christmas Mortgage Appeal
Published: September 28th, 2020
The Christmas Bauble Challenge
WE HAVE NOW REACHED OUR GOAL! FOR EVERY NEW MEMBER PAST OUR GOAL OF 100, A PRESENT FROM SANTAPAWS WILL APPEAR UNDER OUR TREE!
We need your help to decorate our Christmas tree! Join Team SAFE and we'll add a bauble to our tree.
To help track our progress in reaching our target of 100 new Team SAFE members we have created the Christmas Bauble Challenge. Every time a new supporter joins Team SAFE and donates as little as £5 per month, we will add a bauble to our Christmas tree. Once our target of 100 new members is reached, the star on top of our tree will light up for all to see.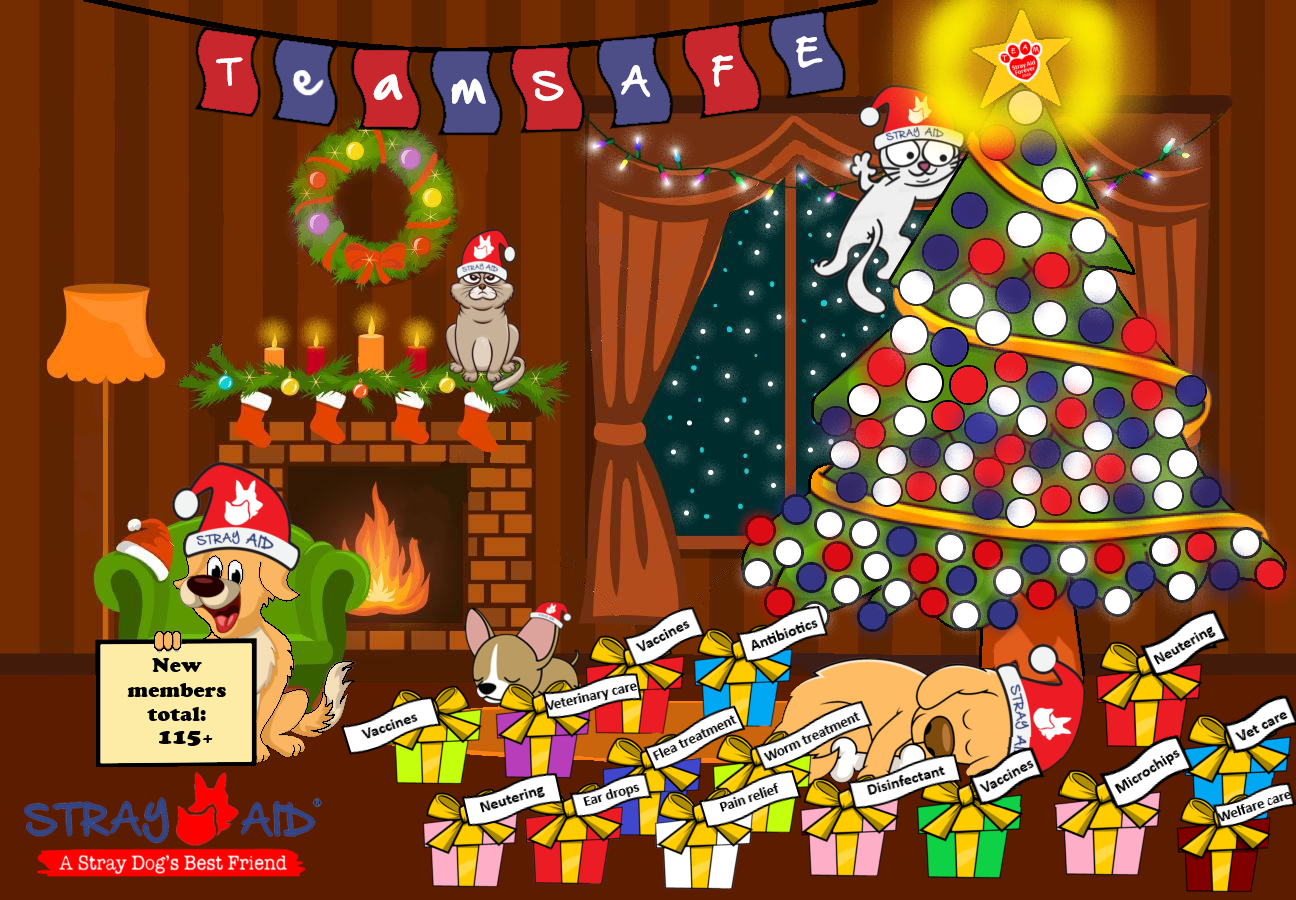 Christmas Mortgage Appeal
Over the past 5 years, we have been working to complete the purchase of our Rescue & Rehoming Centre, including our kennels. This has meant we needed to take out a £90,000 commercial mortgage, as well as using some existing capital from our reserves and donations. We finally completed the purchase in March this year, just before the pandemic hit. Just weeks after achieving our goal of owning our own site, our charitable income was decimated by COVID-19 restrictions.
As Covid restrictions are re-introduced, all fundraising activities and events are still on hold. It is now more important than ever that we can meet our long-term financial obligations and ensure the survival of the charity into the future. If it becomes impossible for us to pay our mortgage, our site could be repossessed and Stray Aid would have to close. Sadly anyone watching the news will have noticed several other charities, both national and local, fall victim to the coronavirus pandemic. Just like these charities, Stray Aid is also facing a cashflow crisis, and we need your help to ensure our survival.
This year, we are not asking for toys, treats or even food for Christmas. This year, to ensure that the dogs and cats in our care not only have a Happy Christmas but a secure New Year, we need our supporters to donate towards our core funding and join Team SAFE, and encourage your friends and family to do the same. We need to pay at least £500 per month towards our mortgage. So, if only 100 addition supporters join Team SAFE, donating just £5 per month, this would ensure we can meet our financial obligations. Please help our Christmas Bauble Challenge.
Alternatively, if you are unable to commit to donating £5 each month, you can still make a one-off donation on our website. We can repay lump sums off our mortgage every month to reduce the charity's debt and start the New Year with a substantially reduced mortgage. With your help and support, we can continue to meet our core funding requirements, which will ensure we can rescue, reunite or rehome the lost, abused and abandoned dogs and unwanted cats from across the North East of England.
From everyone at Stray Aid, we wish you a very Merry Christmas. Keep safe and have a happy and secure New Year!